Hello all! The first day of Chasing the Chesapeake has arrived, although I've been spending it on planes. Currently we're in traffic trying to get to the hotel, but never fear! The word is out about the special runs for this event! Photos courtesy of Julia on Blab:
Writing a blog post on a cell phone is maddeningly frustrating, so if the formatting on this post ends up weird, that's why. So our special runs are not at all what I thought they would be; I don't think a single one really relates to the theme other than Chesapeake and the Stablemate. Speaking of the Stablemate, here he is (his name is Cecil):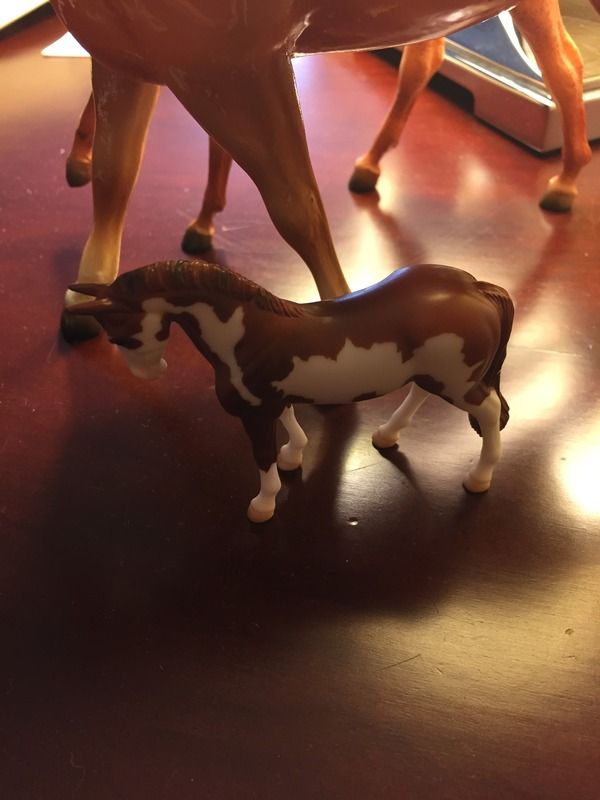 While he does somewhat fit the theme, I don't collect this mold, so both of ours will be for sale.
So, of the available special run options, I will be after Mason, Sagamore Rye, Raven and Black-Eyed Susan. If I'm remembering correctly, the quantities of these models are the same as the ones at Sweet Home Chicago this year. I really, really hope Breyer limits people from buying all the rare ones first, because if we get bad line draws again and end up with four Masons like last year, I am NOT going to be pleased. Maybe I'm just grumpy because I haven't really slept in the last 24 hours? Who knows.
So those are the only updates I currently have. I will try to update again when I hear what tonight's raffle models are, if I don't suffer a rage-induced coronary from Blogger's total failure to make its software work on the mobile site. Argh!